2011 Safety and Environment Excellence Awards
The Steel Transport Safety Network (STSN), SteelLogistics Safety and Environment Excellence Awards recognise outstanding leadership and performance in steel industry logistics safety and environment management.
The Steel Transport Safety Network (STSN) is a joint venture between BlueScope Steel and OneSteel which develops standards for the steel logistics industry to ensure the safety of those involved in the transport of steel. The network's annual awards night allows participants to network with their peers who share a common focus on continued safety and environment excellence performance.
The 2011 awards were presented by Kristie Keast, Vice President Occupational Health and Safety, BlueScope Steel, and Leo Selleck, Chief Executive Market Mills OneSteel.
Individual Safety Leader Award
| | |
| --- | --- |
| Winner | Wayne Walker – Manager Logistics WA, BlueScope Steel |
| Commendation | David Hine – Principal Engineer, Logistics Technical Services, BlueScope Steel |
| Finalist | Richard Clarke – Principal Supply Chain & Logistics Consultant, BlueScope Steel |
Improvement Initiative Award
| | |
| --- | --- |
| Winner | Toll SPD – Plate Loading and Restraint Guideline |
| Commendation | BlueScope Steel – "Not Safe Not On" Initiative |
| Finalist | Patrick Stevedoring – Vessel Power Electrical Connector |
Steel Logistics Outstanding Site Award
| | |
| --- | --- |
| Winner | BlueScope Steel NSW Logistics Stainless Site |
| Commendation | Patrick Stevedoring Port Kembla |
Contractor Outstanding Safety and Environment Award
| | |
| --- | --- |
| Winner | Metropolitan Express Transport Services |
| Commendation | Toll Global Logistics SEQ |
| Commendation | Toll SPD Steel Logistics |
Environment Award
| | |
| --- | --- |
| Commendation | BlueScope Steel – Project Nullabore |
BlueScope Lysaght wins safety initiative award
BlueScope Lysaght won the Improvement Initiative award in the Australian Steel Institute National Health and Safety Excellence Awards. The Award was strongly contested this year with 21 nominations submitted.
The Lysaght team was recognised for developing a Quad Bore Lifter which offers a safer alternative to bore vertical coil lifting. The Quad Bore Lifter is the result of a comprehensive review of lifting devices across Lysaght sites which led to the final design and manufacture by Eastall Engineering in Queensland. The Quad Bore Lifter was fully tested before production commenced in December last year.
The new device has now been in operation at BlueScope Lysaght sites since February. It can be adopted by any business that lifts bore vertical coils, greatly reducing the associated risks of traditional lifting devices.
The Health and Safety Excellence Awards are an initiative of the ASI National Safety Committee to recognise the dedication of steel industry companies and individuals to maintaining and improving workplace health and safety.
Helping make construction safer
The PEB team at BlueScope Lysaght Indonesia has hosted a seminar for its fabricator and erector partners focusing on Working at Heights and general safety in construction.
BlueScope Lysaght Indonesia is recognised amongst industry peers for the attention and accountability it gives to safety. BlueScope Lysaght Indonesia Safety Manager, Surono, spoke to the participants about BlueScope Steel safety standards, the Working at Heights policy and Code of Practice, and measures to prevent injuries on construction sites.
The seminar also discussed the standard practices BlueScope Lysaght PEB uses in construction projects. In addition to safety, these include material project specification, drawing, fabrication practices such as welding and painting, and erection methods.
Safety excellence at Western Sydney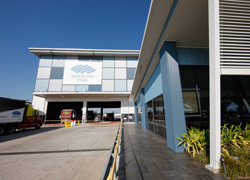 The Western Sydney Service Centre has received a 2010 Safety and Health Excellence Recognition award from the World Steel Association for its work in developing a safe practice for loading and unloading trucks. Paul O'Malley, Managing Director and CEO, accepted the award on behalf of the Western Sydney site at the World Steel conference.
The team at Western Sydney worked with truck drivers, despatch and warehouse teams, our BlueScope Logistics experts and BlueScope safety networks to develop a simple and safe procedure for moving coil on and off trucks. The success of this initiative has contributed to the excellent safety record at the Western Sydney Service Centre.
Other BlueScope sites and customers have now adopted the procedure, resulting in a safer working environment, faster loading times and better working relationships with drivers.


Steelscape No 1 for safety
The Steelscape Kalama team has been recognised by the National Coil Coating Association (NCCA) for its safety practices and employee involvement in safety.
The NCCA voted Steelscape number one from a field of 30 coil coaters in the United States for "Best in Safety Practices" and "Best Employee Involvement" based on the unanimous decision of the five judges who visited the Kalama site in September.
This year is special for many reasons: Steelscape was able to manage risks in a soft economy, stay focused on new employees and be recognised for employee engagement. The Kalama site also reached milestones of zero MTIs and zero LTIs during the year.
In addition to Steelscape's safety record in Kalama, the group has excelled in sustaining continuous improvement in the safety program.
Engineering excellence combines with safety
BlueScope Lysaght Malaysia and Shell Malaysia recently undertook a joint site safety exercise at the Shell Middle Distillate Synthesis wax processing plant under construction in Sarawak.
BlueScope Lysaght Malaysia's PROBUILD™ pre-engineered building solution is being used for the Shell project, and incorporates BlueScope's safety standards into site project management.
"This is a great opportunity to share knowledge between two different industries with a common belief in safety practice," said Heon Chee Shyong, President BlueScope Lysaght Malaysia.
The Shell Malaysia wax processing plant demonstrates yet another engineering achievement in leading the regional markets for PROBUILD™ in pre-engineered building solution.
"We use the construction state design approach, where we run design analysis at every stage of construction to ensure that the building is safely engineered and installed" said Goh Thian Aun, Vice President Pre-Engineered Building, BlueScope Lysaght Malaysia.
BlueScope Lysaght Malaysia has also recently received the ISO 18001 (OHSAS) accreditation, as well as winning the Gold in the Malaysian Society for Occupational Safety & Health (MSOSH) Occupational Safety & Health (OSH) Award.