Land Management
Proper land management is an important part of BlueScope's licence to operate and a key guiding principle in Our Bond which recognises that our communities are our homes. Under our stewardship, we aim to improve our working and living environment by reducing the environmental impact of our operations and addressing legacy issues.
BlueScope Steel has a total of 222 manufacturing, processing and distribution sites in 16 countries, as shown in the table below. Small sites are used for product storage through to cold metal forming operations and are often leased. Medium sites include metal coating and painting lines and mining operations. Large sites include cokemaking, ironmaking, steelmaking and hot rolling operations.
| Country | Small | Medium | Large |
| --- | --- | --- | --- |
| Australia | 152 | 4 | 2 |
| Brunei | 1 | | |
| China | 7 | 1 | |
| Fiji | 1 | | |
| India | 3 | | |
| Indonesia | 3 | 1 | |
| Malaysia | 4 | 1 | |
| Mexico | 1 | | |
| New Caledonia | 1 | | |
| New Zealand | | 2 | 1 |
| Singapore | 1 | | |
| Sri Lanka | 1 | | |
| Thailand | 3 | 1 | |
| USA | 23 | 3 | 1 |
| Vanuatu | 1 | | |
| Vietnam | 2 | 1 | |
| Total | 204 | 14 | 4 |
Zero Land Contamination
Land contamination occurs when chemical substances are concentrated in the soil and ground water above natural levels. Elevated levels of pollutants have the potential to cause adverse effects to human health and the environment. BlueScope Steel manages ongoing operations to prevent new land contamination, while continuing to identify, understand and manage legacy issues. The Company aspires to zero new land contamination at each of its sites.
Protected Areas
Some of BlueScope's facilities are located on or adjacent to areas which may be rich in biodiversity or have cultural significance. BlueScope Steel proactively participates in the ongoing management and protection of these areas through a variety of programs as outlined below.
Country
Site
Area
Australia
Port Kembla Steelworks
Tom Thumb Lagoon
Green and Golden Bell Frog Ponds
Dapto Remnant Indigenous Forest
Western Port
Western Port Wetlands
UNESCO Biosphere Reserve
New Zealand
Waikato North Head Ironsand Mine
Maori Burial Sites
Waikato River and Wetlands
Taharoa Ironsand Mine
Sacred Maori Sites
Taharoa Lakes and Wainui Stream
Glenbrook Mills
Waiuku River
Waikato River
Archaeological Sites
Remnant Indigenous Forest
North America
Steelscape Kalama
Columbia River
Western Port Wetlands of International Importance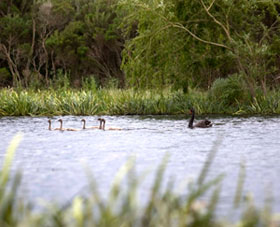 The wetlands at Western Port are listed under the Convention on Wetlands of International Importance, more commonly known as the Ramsar Convention. A Ramsar wetland site is considered representative, rare or unique, or important for conserving biological diversity.
The wetlands at Western Port cover more than 59,000 hectares and include a wide variety of habitat types including deep channels, seagrass beds, mudflats, extensive mangrove thickets and saltmarsh vegetation. Wetlands are important feeding grounds and nurseries for land, marine and freshwater animals. Hundreds of bird species depend on wetlands around the world as part of their life cycle.
BlueScope's Western Port facility owns a section of the wetlands. The Company has implemented a Natural Resource Management Plan (NRMP), encouraging planting of indigenous species and working to reduce weeds and feral animals. Western Port's recycled water project which is underway will also minimise discharge to Western Port.
A "Land for Wildlife" refuge, a haven for native flora and fauna on 183 hectares of the site, is helping preserve the unique natural environment of the Western Port area.
Current controls
BlueScope Steel facilities have a variety of preventative and mitigating controls in place to prevent land contamination. These controls include:
Sealed floors in operational areas
Stockpile management
Bunds where bulk chemicals are stored
Maintenance of pipes, vessels and valves
Spill response procedures
Remediation processes
In order that protected areas are appropriately cared for, the Company employs various strategies, which include:
Involvement with community groups
Improvement and conservation activities
Minimisation of operational impacts
Performance
During the 2011 financial year, there were no significant incidents with the potential to contaminate land.