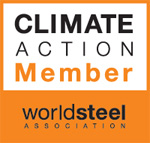 GLOBAL STEEL EFFORT TO IMPROVE THE ENVIRONMENT
BlueScope Steel, in partnership with other steel makers and the World Steel Association (worldsteel), is committed to continued participation in the worldsteel CO2 emissions data collection programme, and is contributing to worldwide data collection and research efforts.
The Company has been engaged in two research projects under the worldsteel CO2 Breakthrough Programme. The first project focuses on the potential to use biomass as a substitute for a proportion of the coal or natural gas used in the iron and steelmaking process. The second project aims to recover and reuse waste heat energy collected in a dry slag granulation process. This project also has the potential to save fresh water.
Improving Heating Efficiencies at Lysaght Langfang
The original ducts supplying heated air to the Lysaght Langfang Panel Line were made of uninsulated steel sheet. Heat losses were significant. The system took two hours to heat up before production could commence.
A fibreglass belt was installed to insulate the steel air ducts, reducing heat losses to the atmosphere. The duct outer surface temperature reduced from 70°C to 25°C and the time to heat the panel line was cut in half. For a modest investment, overall fuel consumption and related emissions were reduced by 12 per cent.
Original uninsulated heat ducting
Insulated ducting reduces fuel consumption
and emissions by 12%
Natural Lighting in BlueScope Buildings
Factory lighting is one of the key energy uses within the Lysaght Australia business.  To reduce the amount of electricity needed for lighting during day time operations, Lysaght developed a new standard by using translucent sheeting during factory construction. 
Four new factories have now been built to this standard.  The translucent sheeting significantly reduces the electricity demand for lighting. Natural light provides a pleasant working environment for employees.  Electricity costs are reduced and greenhouse gas emissions consequently decrease.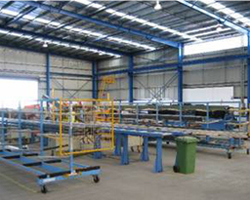 Translucent sheeting reduces electricity demand