ENVIRONMENT MANAGEMENT SYSTEM
The BlueScope Steel Environment Management System has Our Bond at the apex. Each level in the system supports those above. All components are aligned to assist BlueScope Steel in achieving and demonstrating sound environmental performance. Employees play a significant role in implementing our Environment Management System.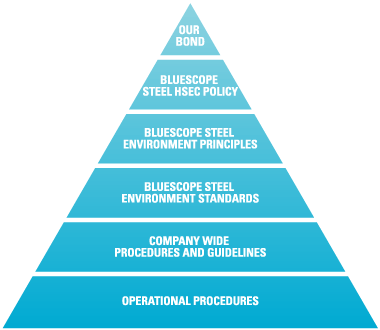 Our Bond
Our Bond reminds us that our strength lies in "choosing to do what is right". Our success relies on communities supporting our business and products. In turn, we care for the environment, create wealth, respect local values and encourage involvement.
HSEC Policy
BlueScope's HSEC Policy states:
"We care for the environment. We are committed to the efficient use of resources, reducing and preventing pollution, and product stewardship."
To meet our commitments, we will:
set measurable objectives and targets
develop, implement and maintain management standards and systems
comply with relevant industry standards and legal requirements
regularly monitor and report publicly on our progress
provide training to our employees
consult and engage stakeholders
identify, assess and manage risks
Environment Principles

At BlueScope Steel, we will take action within our businesses and work with our partners to continually improve our environmental footprint. The framework for this commitment is detailed in the Environment Principles. These Principles also incorporate a set of expectations that describe what each site, manager and employee will do.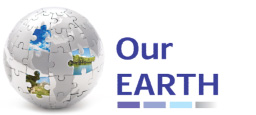 Our Environment Principles are:
E

nvironmental performance and improvement is a management responsibility.
A

ll employees must adhere to environmental policies and procedures.
R

eport, investigate and correct all environmental incidents.
T

raining all employees to raise awareness is essential.
H

onest, open, and timely communication is essential.
We care for our EARTH.
Environment Standards
The BlueScope Steel Environment Standards provide the framework for the development, implementation and maintenance of Environment Management Systems across the Company and support the implementation of Our Bond, HSEC Policy and Environment Principles. They are consistent with the requirements of the International Environment Management System Standard, ISO 14001:2004.
There are 12 Environment Standards covering requirements such as leadership, risk management, legal compliance, emergency management, training, communication, incident management and performance measurement.
Company-Wide Procedures and Guidelines
Company-wide Environment Procedures and Guidelines have been developed to help different areas of the business manage their environmental performance and encourage a consistent approach.
Operational Procedures
Each Business, Business Unit and Department has its own set of operational procedures. Incorporated into these procedures are environmental requirements relevant to the particular processes for that part of the business.
Excellence in environmental management
BlueScope Steel Thailand has received the Excellent Environmental Management Award presented by the Industrial Authority of Thailand (IEAT).
The award was established to recognise companies demonstrating good governance in Environment Management Systems in the Map Ta Phut community where BlueScope Thailand's operations are located.
Under the Excellent Environmental Management Award, representatives from the community and the IEAT visit business operations in the Map Ta Phut region to conduct an audit and line walk every quarter. They then assign one of four ratings - need improvement, fair, good and excellent. BlueScope Thailand has received an excellent rating from the community visit for the second time in three years.
BlueScope Steel Thailand is now able to display the award at its site. But to continue to meet the required standards, it must comply with specified legal requirements and management systems, including the ISO 14001 management system and emission control and waste management programs.